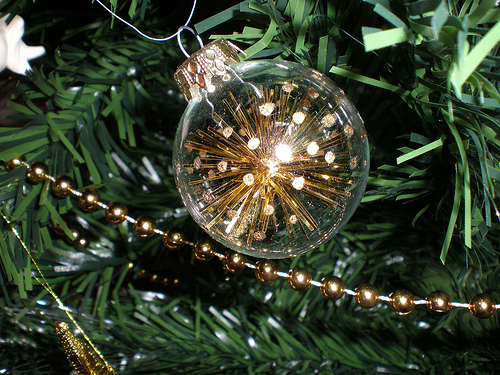 Tis the season! I personally love the holidays because, well, what's not to love? Family, friends, delicious food…oh wait, I just thought of one thing I decidedly don't love about the holiday season – the stress of hosting a holiday party.
If you're like me, though, you aren't willing to let the hair-frazzling aspect of being a host keep you from having people over. So this holiday season, give yourself the early Christmas gift of a stressless (or at least a less stressful) holiday gathering by following my four ultimate tricks for hosting a stress-free holiday party.
Holiday Party Trick #1 – Embrace the Pre-Party Party
Whenever I have a big group of guests coming, I invite a couple close girlfriends over beforehand to help me set up. No pretense necessary – they're my cheap labor! But I make the setup feel like a VIP pre-party with a preview of finger foods, a great bottle of wine and some quality girl talk. It's really a treat, because as the hostess, I'm usually so busy during the party I don't have time for those intimate chats. Nobody says you and the girls can't talk about your husbands while folding napkins!
Holiday Party Trick #2 – Clever – and Convenient – Snacks
I really am a stickler for having food at a party. I mean, everybody loves to eat! But strategizing snacks for a big group can be tough. My solution? Easy prep foods dolled up in the presentation. For example, one of my go-to party snacks is boxed mac and cheese (everybody's favorite guilty pleasure!) set out ahead of time in plastic martini glasses. It's the perfect party portion, and looks really cool lined up along the counter. Plus, the mac and cheese is yummy, easy, and affordable to make for a bigger group. I guarantee this one as a true crowd pleaser.
Holiday Party Trick #3 – Guest Chefs and DJs Welcome
There are two things I'm always willing to accept help with when it comes to hosting a party – the music and the food. The music is easier; most of us have a couple friends who would be more than happy to bring along a playlist for the event. (I have a few friends who actually prefer that, and that's fine with me!) Recruiting help with the food can be a bit harder, since you don't want to overburden your guests. But sell the idea by complimenting a friend on her particularly fabulous cookies and letting her know you're dying to have some at the party. If she comes through for you, make sure to be vocal about where the deliciousness came from, and it's always a nice idea to send her home with a little thank you gift at the end of the night.
Holiday Party Trick #4 – White Liquors Are Your Friends
Look – I am of the adage that, if you're going to throw a party at your apartment, you're going to have to accept that a little spillage may occur. Especially when you're apartment is a small – and easily crowded – as mine. But you can do your best to minimize the damage by only supplying white liquors. I know everyone loves red wine (yours truly included,) but trust me on this one. Having a robust selection of white wines and liquors should be plenty to satisfy thirsty party-goers. To jazz things up and make it seem more like a thematic choice rather than a disaster prevention plan, decorate your bar with gold garland, tinsel or bobbles. The white and gold make a classic holiday color combo.
Photo Credit: lindz graham