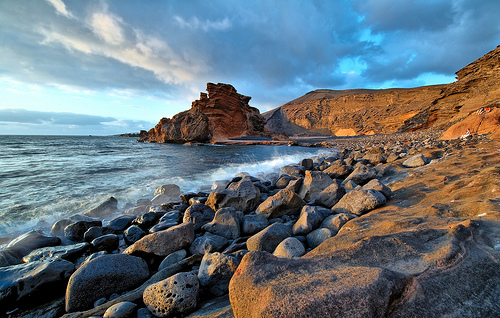 If you're like most of us Urban Housewives, you need the occasional vacation to stay sane. As for the desitnation? Lanzarote is one of the Canary Islands, and is proving to be a hugely popular destination for British tourists. Why is this? We run down some of the best reasons that you should visit this beautiful island.
Climate
Lanzarote is a great all year round destination, as even during cooler winter months, there is still daytime temperatures above 20 degrees, with an average of seven hours sunshine. Perfect for a winter break if you want to get away from the cold climates of Britain.
Flights
Getting to Lanzarote couldn't be easier, as flights to Lanzarote are only four hours from UK and Ireland airports. You can be there on the beach by mid afternoon if you set off in the morning! For you next adventure, why not book your 2014 Lanzarote holiday and get great savings by booking in advance?
Beaches
Lanzarote boats over one hundred beaches with a destination to suit everyone, from white and golden to black volcanic sand, and with beautiful crystal clear water you can swim, surf or just laze around on a sun lounger all day. There's lots of sea-based activities such as boating or swimming to try out in the beautiful ocean waters. Why not go out on a banana boat into the choppy Atlantic waters or explore under the sea with a glass-bottomed boat trip?
Accommodation
The island has an excellent selection of holiday accommodation, from one bedroom apartments, large villas with private pools up to luxurious five star spa hotels, catering for everyone no matter what the budget or occasion is.
Sport
For those of you who like to get active when you go away on holiday, Lanzarote is the European Sports Destination. You may even spot some Olympians as some of the world's greatest athletes visit Lanzarote for warm weather training during the colder winter months. You can choose from a huge number of activities including cycling, running, swimming, golf, surfing, scuba diving, sailing, paragliding and hiking.
Food and Wine
Lanzarote produces award winning wines. You can explore the winemaking tradition with a trip around the bodegas, which is is a popular excursion for visitors to the island. Not only that, but the proximity to the ocean means that Lanzarote enjoys some of the best seafood. There is a huge range of international cuisine. For a more traditional Canary island flavour, you can try out one of the many local and Spanish tapas dishes.
Photo Credit: luc.viatour