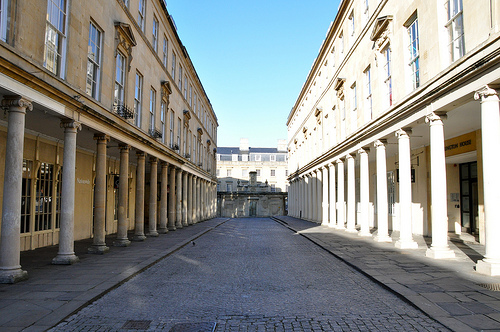 Although English are known to be rather strict and shy in their emotions, their architecture is opposite. Beautiful buildings, extravagant squares and charming little gardens are nothing but pure romance.
If you are looking for romantic place in England, the best city to go to is Bath. The city is located in the southwestern part of England, boasting with numerous cultural and historical attractions, it attracts plenty of tourists from all over the world.
What makes it different from other attractions in England is that the city is one big spa center. It happened so during Georgian era, when Romans were dominating on the territory of present England. They built giant baths, surrounding them with typically luxurious Roman architecture. It is interesting that Bath is the only foreign city Romans used for recreation.
Nowadays, Bath, is one of the major touristic destination in Great Britain. It is the only city that managed to save its historical attractions almost untouched. In addition, Bath has natural hot springs and incredible gardens that are nicely combined with cozy cafes like Ethos, where you can try exquisite deserts and enjoy picturesque views. Taken to account the above mentioned it seems obvious that UNESCO claimed this city world heritage.
The main attractions of the city are Royal Crescent and Thermal Spa. Royal Crescent is a charming narrow street in the center of the city. It is interesting that each building there has its own history. Right there you will find many interesting museums like museum of fashion. And don't forget to visit one of the Bath's theaters that are open Monday through Saturday. Royal crescent street was claimed the most beautiful street in the world in 2010, so you may expect a lot.
Thermal spa is probably the greatest spots in Bath. Hot water and rich architecture take you 2000 years back, to the times of glorious Roman Empire. The feeling after this historical bath is almost overwhelming. Of course, you will be guide by professional service who will make sure you are getting the best from your experience.
Those who are travelling with kids can visit Avon valley Adventure Park in Keynsham, this will keep them busy for the whole day. If they are too energetic visit Egg Theater, they present great plays where children are involved.
Altogether, Bath is a great vocational spot where you can enjoy history, culture and romance.